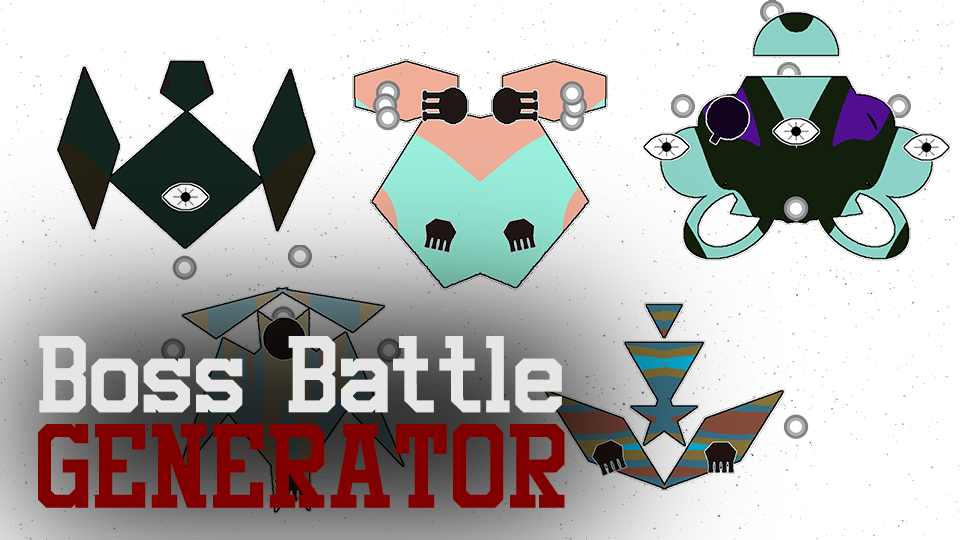 Boss Battle Generator v1.1
Boss Battle Generator v1.0, Up and Operational(-ish)
---
Hi all!
Just an announcement that I've uploaded a new project, the aptly named Boss Battle Generator!
I've always been a fan of boss battles in games, so I thought it'd be a fun challenge to see if I could procedurally generate them. Despite the wealth of procgen games out there, the majority that feature boss battles still manually design them. I honestly couldn't find any games out there besides Warning Forever or arguably the Shadow of Mordor games that used procgen to develop boss battles, so I think this is a fun experiment.
I'm going to be updating this over time, but as of now some basic generation is in. There's an option to "Test" the boss battle, allowing you to move around as a little spaceship but this feature is incredibly barebones, no real gameplay to it yet. I'm currently working on a version 1.1 that will add in some of the missing features I wanted to implement, as well as fix some of the bugs present in this build.
Here's some directions I'm currently thinking of going in:
Boss type affecting more, including sprite generation.
More weapon types.
More attack types.
Randomised attack types and projectiles.
More movement pattern types and variables, including rotation.
Generated boss names, health bars, and stats.
Basic gameplay like being able to damage the boss, take damage yourself.
The main reason I'm putting this out here so early is to get some feedback. Have any suggestions for what would make the bosses better? What should be removed? What features I should add? Or just have some cool boss seeds you want to share? Comment below!
- Rudi
Files
Boss Battle Generator v1.0.zip
19 MB
May 15, 2019
Get Boss Battle Generator v1.1